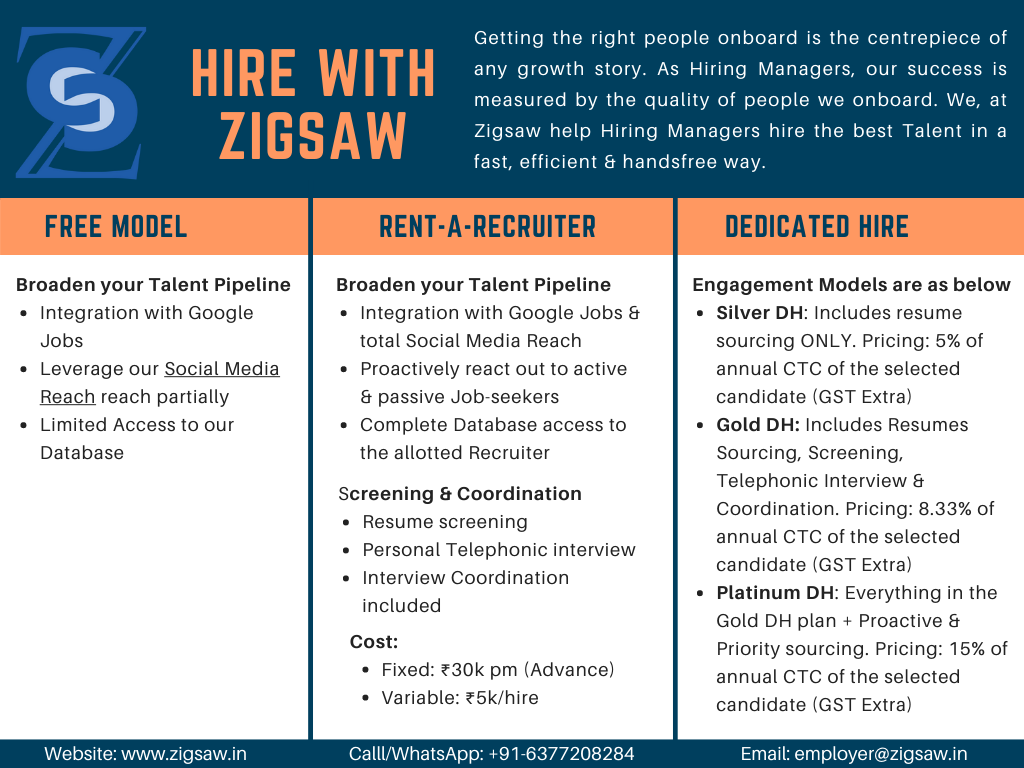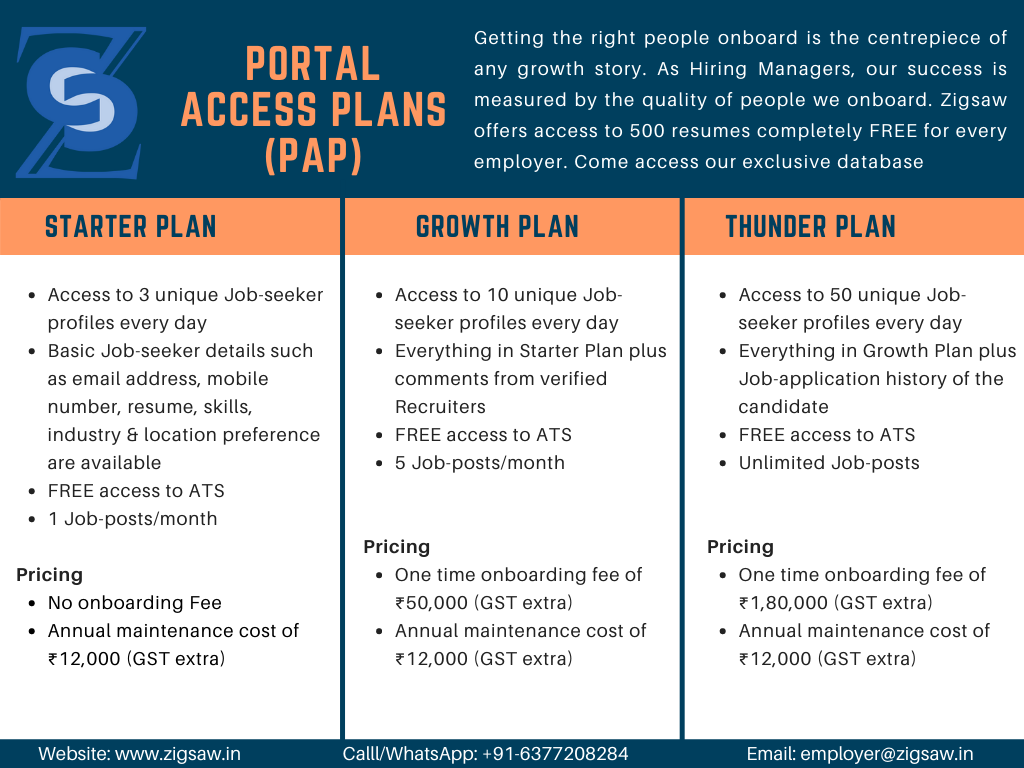 An end-to-end Hiring Solution
Zigsaw brings to you an end-to-end recruitment solution where an expert recruiter is allotted to you to help you meet your hiring goals effectively so you can sit back and enjoy while we find the best-fit candidate for your hiring requirement.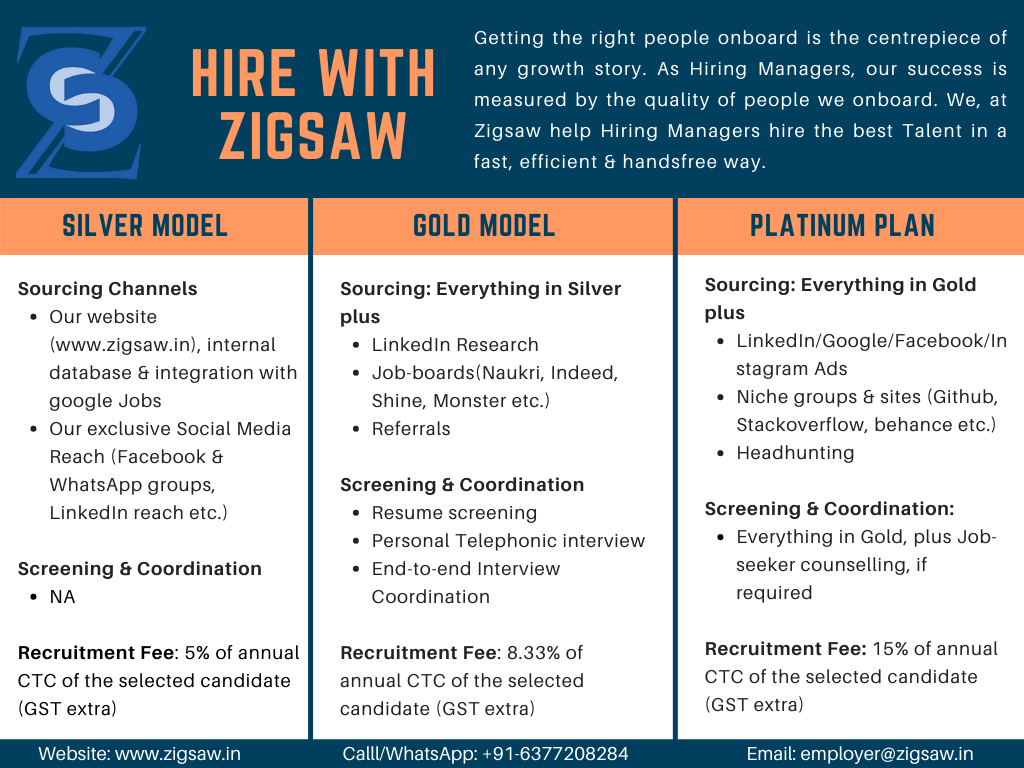 Step by Step process of Dedicated Hire
Post receiving confirmation from your end to engage on Dedicated Hire Model, we would allot you a dedicated Recruiter at this point. Kindly note that the dedicated Recruiter is allotted based on your Industry, Function & the Job location. Typically allotted Recruiters have extensive experience of Recruitment in your domain
Next, we do a multi-channel sourcing to source the best profiles for you
Candidates you show interest are vetted not just based on their resume (skills & experience), but also based on a personal telephonic interview of our expert Recruiter. The suitable profiles are passed to you at this stage
The candidate our team finds a Perfect Fit for your role are sent across & you can hire whoever you find the best fit for the role
Our team is available for support wrt Interview Scheduling OR follow up with the candidates if required
Associated Terms of Dedicated hire are as below
Payment to be made within 7 days of candidate joining
In-case the candidate leaves the organization within 90 days of joining(termination excluded), a suitable replacement to be provided (maximum 1). Incase a suitable replacement is not found in the next 30 days,total amount charged to be reimbursed in 7 working days.
Validity of the resume: 6 months (Recruitment fee equivalent to 3 times the agreed fee would be payable in case of non-communication and 5 times in case of mis-communication from the employer's end)
Companies, if they need to hire an existing employee of Zigsaw will need to pay a fee of INR 1,00,000 + GST to GFL Recruitment Private Limited
This hiring plan is postpaid in nature
Commercials for different profiles are as below (GST Extra)
Silver Plan: 5% of annual CTC of the selected candidate
Gold Plan: 8.33% of annual CTC of the selected candidate
Platinum Plan: 15% of annual CTC of the selected candidate
Companies can send confirmation email to employer@zigsaw.in and a Recruiter would be allotted in 24-48 hours
If a candidate is hired and the same is not informed to Zigsaw at employer@zigsaw.in within 15 days of candidates joining, this would be treated as a breach of contract. In this case, invoice amount would be 3 times the recruitment fee as agreed in terms of engagement, plus any management & legal fee that Zigsaw might incur for the same.
For any queries, use the chat on the bottom right or get in touch with us at 6377208284 or employer@zigsaw.in
Recruit at Zero budget
To move one step closer to our vision of building an open community where all the employers and job seekers could connect for free, Zigsaw offers a Free Recruitment Model to all the employers.
Advantage of FREE Model
Post free job on our Job-site and the Job remains live for 45 days. Alternatively, You can post your Job for FREE on our website by sending across your Job-desciption at employer@zigsaw.in Kindly include Roles & Reasponsbilities, qualifications, Job-location, approximate salary bracket while sharing the Job-description. Also, kindly include a brief about your company, email address on which we should send resumes & your contact number in case we need to reach you
Get only relevant resumes, delivered directly to your inbox: All profiles that reach you from our end are resume screened profiles from our end to ensure that only relevant resumes reach you. You could think of the FREE model as a way to broaden your talent pipeline at Zero Cost
Since Job-seekers log on to zigsaw.in for their Job-search, it allows us to give you a broader bandwidth wrt your sourcing channels. Moreover, our integration with Google Jobs makes these Jobs available to anyone who searches for Jobs on Google
You can also use our Social Media Reach to broaden your candidate search campaign
For any queries, use the chat on the bottom right or get in touch with us at 6377208284 or employer@zigsaw.in
Employers Frequently asked questions when partnering with Zigsaw
Welcome to Zigsaw. Rated a perfect 5 Star on Facebook & 4.8 on Google (out of a total of 75 reviews), we at Zigsaw believe that building the right team is at the center of every success story. We are the preferred Recruitment Partner for companies who resonate our idealogy of the importance of "Building the right team". You can also refer to Zigsaw's prospectus to know more about us, our clients & what they have to say about us.
If you want a glimpse into the Different Hiring Models of Zigsaw, check here. This also includes the details of Free Model
Here are the most asked questions
How can you help us hire?
What are your prices?
What is your process for a Dedicated Hire Model?
I am working with other Recruitment Firms at a lower price. Are your prices negotiable?
What if the selected candidate leaves after joining?
When am I required to pay you?
Tell me more about your FREE Model. How do I associate with you in this model?
What are the advantage of FREE Model
What is the difference between Free Model & Referral/Dedicated Hire
Making-Hiring-Simpler
We understand that every client is different and understanding their expectations has been our biggest strength. Our team of young, dynamic professionals has successfully executed out-of-box strategies to deliver maximum value in least time. Client satisfaction is of utmost importance to us and we would like to be a part of your success story. Here are some glimpses of how employers have benefitted by partnering with us.
Here are the Cases
Case Study-1 (A reputed outsourcing company in Udaipur)
Case Study-2 (A US based healthcare product company)
Case Study-3 (A water plant with core team from Switzerland)
Case Study-4 (An IT service company)
Rent-a-Recruiter Model
In this model, a dedicated Recruiter with experience from your industry is allotted to you to help you meet your hiring goals. The recruiter acts as your extended team member having the expertise & tools available with any Zigsaw recruiter
Step by Step process of the RAR Mode
Post receiving confirmation from your end to engage on RAR Model, a dedicated Account Manager is assigned to you
After receiving the confirmation from the accounts team, the Account Manager allots an experienced recruiter from your industry. Typically allotted Recruiters have extensive experience of Recruitment in your domain
Next, we do a multi-channel sourcing to source the best profiles for you
Candidates you show interest are vetted not just based on their resume (skills & experience), but also based on a personal telephonic interview of our expert Recruiter. The suitable profiles are passed to you at this stage
The candidate our team finds a Perfect Fit for your role are sent across & you can hire whoever you find the best fit for the role
Our team is in constant touch with hiring managers to offload your work and smoothly coordinates with Job-seekers and hiring managers alike. The coordination is typically done to keep a track of availability of the hiring manager, getting interview slots, scheduling and follow up with the candidates if required
Associated Terms of Rent A Recruiter hire are as below
₹30,000pm to be paid in advance at the start of the association
₹5,000/hire to be paid for each successful hire
No questions asked refund would be applicable for Rent-a-Recruiter model. This means at any point companies would be eligible for a "No questions asked" refund for the service on pro-rata basis
In-case the candidate leaves the organization within 90 days of joining(termination excluded), a suitable replacement to be provided (maximum 1) OR adjusted against next billing
Validity of the resume: 6 months (Recruitment fee equivalent to 3 times the agreed fee would be payable in case of non-communication and 5 times in case of mis-communication from the employer's end)
For any queries, use the chat on the bottom right or get in touch with us at 6377208284 or employer@zigsaw.in