Customer Relationship Management or CRM is a buzzword nowadays. This software is highly talked about software in the technical world. Dynamics of marketing and sales are continuously changing, bringing along a wide need for CRM software. There is a huge change in the past some years. The methods and tactics used for marketing and sales have changed too.
The advanced and modern technologies like CRM, marketing automation, AI, and sales automation have transformed to get the leads, convert them, and nurture them into prospects. Looking at the growing needs, we have come up with the list of top 10 CRM software firms in India that are changing their way of marketing and selling. So, without wasting our time, let us start.
Also Read: 10 Best HRMS Software in India 2020
10 Best CRM Software in India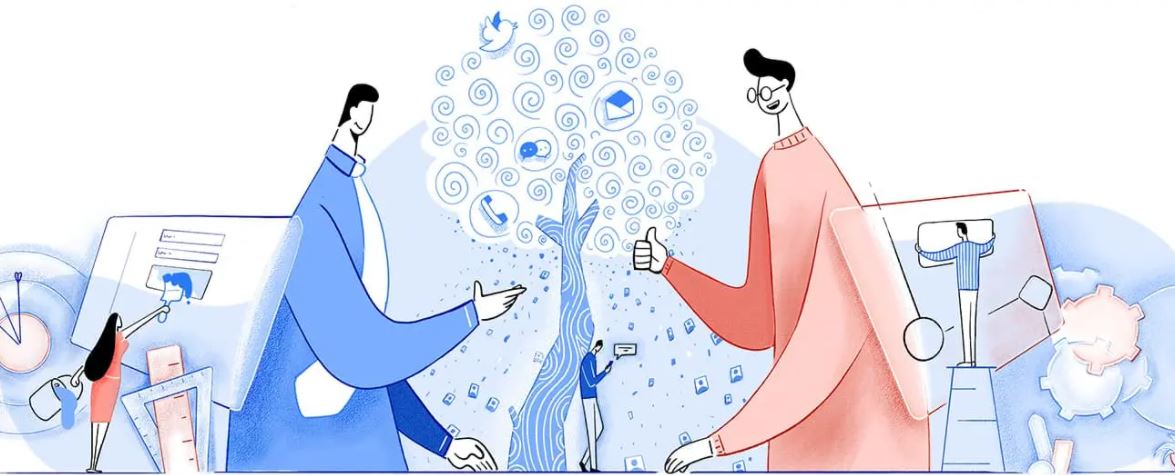 SalezShark tops the list of the best CRM software companies in India; SalezShark is the fastest-growing company in the Customer Relationship Management world. This is one best option for small & medium enterprises. SalezShark software is designed exclusively for managing all types of business manual tasks, sales automation, activity updates, daily timesheet, marketing, invoicing, support system, marketing automation, task management, sales track and forecast, and more at one platform.
SalezShark CRM offers limitless possibilities. They offer the ultimate toolset for building strong relationships, improve engagement, as well as drive your business growth. SalezShark provides the most unified marketing and sales platform made for helping you & your team to run and build your business. 
Zoho CRM software is another top rating CRM tool in India, mainly for small businesses to track the leads, optimize the sales activities, and close your deals much faster. The tool comes included with some rich features like sales performance, multi channel communication, productivity, automation, extensive customization, and enterprise readiness. Zoho helps you to sell faster, smarter, and better.
Hubspot is a prominent CRM software firm in India. Their software can easily be used by the small and medium businesses to push their business transactions just by increasing their total number of sales possible when curbing down on the excessive workload. It is used by everybody, installed on handheld devices too so that users will have access to CRM anytime and anywhere. The feature of sales automation is one amazing benefit of the CRM as users will focus on various other features of driving the business as well as staying in touch with their partners when any sales take place.
Agile combines marketing and sales features to offer smarter selling as well as complete customer involvement. Agile CRM software provides some exciting features like project management, lead scoring, telephony, marketing automation, appointment scheduling, email tracking, mobile marketing, and many more, etc. to their customers.
Bitrix24's CRM software offers the best portal where the businesses may streamline and track down the interactions with the potential leads and current partners and customers. This is one of the best CRM software that allows the users to manage and log client interactions, store and capture the lead data, produce sales reports, and perform the segregation of the target audience.
This has got some amazing features to feed the leads from the user's site straight in the CRM software. The users then will create the email templates, send the group or individual emails to the sales qualified leads, to capture notes on the client interactions, fix down meetings, as well as assign some of the activities.
SplendidCRM is top CRM software in India developed mainly for system integrators & administrators. Some of the features allow the administrators to add user-customizable functions like .NET 2.0's Themes, AJAX, and Web Parts. Analysts have awarded SplendidCRM as the top rivals for the Zoho CRM as they both have the same features and expertise spans throughout their same fields.
This software is made in C# for the ASP.NET framework. At present, this product is accessible in 2 editions- Open-source & professional edition. The only difference for professional edition from open source is an inclusion of the stored procedures & source code for the MS Outlook 2003 and 2007 plug-in.
This CRM is for the high-speed sales teams of the small business and helps you to track the user behavior, optimize the sales operations, and score leads. NextSky CRM Software provides some amazing features like contact management, alerts and lead tracking, deal management, invoice generation, and sales management.
Freshsales CRM tool offers you the option of customizing the presence and reflect your business policy. Users will be able to switch between the multiple currencies & language when dealing with foreign clients. The Freshsales CRM software enables simple import of data, tools, and live chat to get real-time insights. Freshsales is CRM software made in India and helps to manage the leads to tracking the phone & email coordination with the customers, managing their workflows as well as generating the reports.  
SAP CRM software is the popular Customer Relation platforms, which supports improved working abilities and offers you good customer interaction for the better growth of the business. SAP CRM software allows using the application in a cloud and on-premise that depends on customer requirements. This plays an important role in boosting customer engagement, marketing, and sales. This integrates and automates all customer-facing activities.
Sage Group is the biggest business software vendor across the world. This company boasts over 6.1 million customers & 25 years of working experience with small & medium-sized firms. Sage CRM Software in India is the subsidiary of the Sage Group & has more than 1000 customers across India for CRM, ERP, and Payroll products. This company provides expertise across various platforms like Trading & Distribution, Services, Manufacturing, IT or ITES, Media, Financial Services, Travel, and Hospitality or Professional Services.
Wrap Up
These are some of the top CRM Software's used aggressively among the companies to maintain the organization workflows and a strong and healthy relationship with their customers.