The first impression plays a vital role in how an interviewer sees you as an inspiring candidate. How you answer during your first phase of an interview will make a huge difference in the results– it can be either good or bad. Also, you do not have to look as lacking and awkward in your social skills. Instead, you will need to show you have the right communication skills and professionalism that can be an essential asset to a company when hired.
Many times the questions you will be asked in the job interview will be, "How will you describe yourself?" Whereas you have many options when determining how you can answer the question, the key is explaining why your attributes and experiences make you the right fit for this role.
Also Read: Tell Me About Yourself Sample Answers for Freshers
If an interviewer asks to answer about yourself, they are generally looking for information on how your characteristics and qualities align with your skills that they believe -important to succeed in a role. You can include proven results that will show how you apply your attributes to get success. Let us look at some statements that recruiters love:
"I'm determined."

"I have an eagerness to learn."

"I'm passionate about my work."

"I do not give up until I achieve it."

"I'm well organized."

"I have a positive mindset."

"I enjoy challenges."

"Hard work never bothers me. I like it."

"I am a brilliant communicator."

"I am a natural leader."
If these statements do not apply to you, then you must not include them. Suppose you get a job, people soon will see you were not truthful. These above statements apply for any job & they indicate you are a hardworking and cheerful employee. However, there are some extras that you will have to mention in the specific kinds of jobs.
In this guide on best answers for "Describe yourself in one line" question, so let us stick to basics here.
Describing Yourself in the Job Interview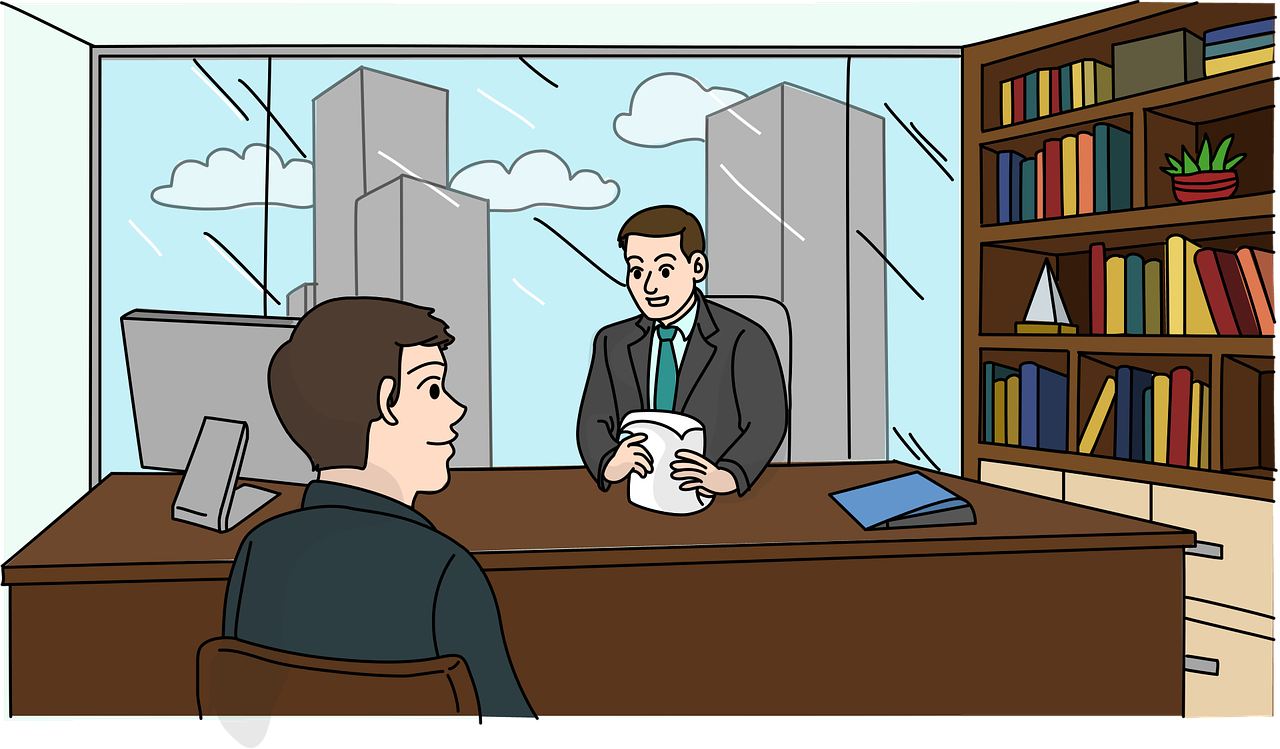 Know the Context
It is a no-brainer. Context is the job interview, and describing yourself means answering the right answer on "describe yourself in one line" question.
Do Research
To describe yourself in the best possible way, you need to research as much as possible about the company that you are applying for. Ensure you are a cultural fit. Learn how you will answer them on what makes you passionate about the question.
Check Your Body Language
Your body language talks more than you can imagine. When you describe yourself to your recruiter:
Ensure your handshake is a bit firm and natural to trust.

Maintain eye contact.

Don't fidget and cross your arms.

Talk with confidence.
Be Prepared with Your Answers
Make sure you prepare your answers and deliver the right interview introduction question. That's it. It would help if you rehearsed many times on what you would like to say to reduce your odds of taken by surprise.
Now, let us look at some examples to answer this question and elaborate a little.
Samples Answers for "Describe Yourself in One Line" Interview Question
Sample Answer #1
"At present, I am working at XXX Company and have specialization in doing XXX. The key reason I have applied for the job is I saw XXX on your given job description & I think I will help you XXX. One of my primary accomplishments in my current role was to help my employer do XXX, and I am pretty confident I will help your existing team to get the same results here."
Sample Answer #2
"I'm passionate about my role, and it is because I have a steady source of inspiration that makes me perform the best. In my previous job, my passion challenged me daily and got to learn many new skills, which helped me in doing much better work."
Sample Answer #3
"I'm a results-oriented person, and constantly check with my goal to decide how close or far we are or what it can take to make this happen. For me, pressure inspires me and a great motivator for the team. Actually, over the past some years, I tried to help my team to shorten our product time by two weeks."
Also Read: 7 Most Common Job Interview Questions and Answers
Make Sure You Practice Well Before You Answer Your Interview Question
As a final point–ensure you do practice everything beforehand when planning to say when an interviewer asks, "describe yourself in one line?" and slowly elaborate on the points.
Do not worry if it is not perfect the first time, with practice you will be more confident answering this question and will not look nervous or stumble when this particular question comes up. 
So I would suggest noting down in a paper and writing the important points that you would like to talk about in your answer. You can write them down in the bullet format.
After that, use your mobile phone's voice recorder application to record some practice answers & see how you look.
But, make sure you do not see your notes when giving the answers. An idea here is to try and remember what you have to talk about without reading what is on the paper. And glance at a paper AFTER to ensure that you have covered everything properly.
Keep on practicing until you give a smooth and best answer without forgetting.
Stay True
Suppose you feel you cannot honestly say such things, then do not try. You should back your answers up with your life evidence. "I am determined. For instance, I…."
You must ask yourself if you will be happy in the job where you need to portray to be somebody besides who you are and if you can even do it. Probably you will not. What would you get? Two things your future employer will not like is a short service and a bad reputation. Look to the field you will enjoy and improve at instead.